About Our Staff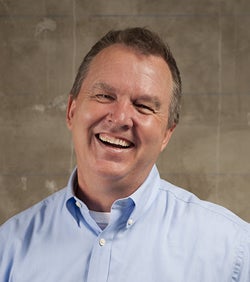 Mark Rasdorf, MA, NCC
Senior Associate Director, Intercultural Affairs
Director, Dr. Jesse R. Peel LGBTQ Center
(252) 737-4451
rasdorfm@ecu.edu
Pronouns: He/Him/His
Mark Rasdorf is the Senior Associate Director in Intercultural Affairs at East Carolina University and Director of the Dr. Jesse R. Peel LGBTQ Center. His primary responsibilities include programming and long-range planning for the Center, as well as serving as the staff liaison with the LGBTQ Advancement Council. Mark oversaw the grand opening activities for the center's new home in January 2019, including a Ribbon Cutting and Open House attended by more than 400 people and a Grand Opening PRIDE Dinner and Celebration attended by more than 300 people. In its new home in the Main Campus Student Center, the Peel LGBTQ Center is the largest center of its kind in the UNC system.
In addition to his work with the Peel LGBTQ Center, he has served as a Cluster Facilitator (2015) and as Program Coordinator (2016) in the LeaderShape Institute. He led the return of a campus production of Eve Ensler's "The Vagina Monologues" in 2015 and co-directed the 2016, 2017, 2018, and 2019 productions as part of ECU's Pledge Purple campaign. In 2016, he collaborated with the Victim Advocate and the University Writing Center to create "To Girls Everywhere," an event exploring the impact of sexual assault and sexual violence on college campuses based on the victim letter in the 2015 assault at Stanford University.
In 2017, his work on campus was recognized with the East Carolina Creed Award for Diversity; the 2017 Diversity and Inclusion Award; and the Division of Student Affairs Inclusion Award. Mark was honored with the 2019 Public Service Award from the Coalition for Sexuality and Gender Identities in the ACPA College Student Educators International. In 2020, he was named a member of ECU's Servire Society in recognition of his community service and he was received a Treasured Pirate Award.
In 2021, he was appointed to the newly formed Pitt County Human Relations Commission and he serves on the boards for the Greenville Museum of Art and the Center for Family Violence Prevention.
Mark earned his Master of Arts in Clinical Mental Health Counseling, as well as a Graduate Certificate in Expressive Arts Therapy from Appalachian State University in May 2013. While at Appalachian, he served as the graduate assistant for the LGBT Center for two years and his work was honored with Appalachian's prestigious Gregory S. Blimling Award for Outstanding Graduate Student in Student Development. In 2012, Mark received the Outstanding Graduate Student Award from the Association for LGBT Issues in Counseling (ALGBTIC), a division of the American Counseling Association (ACA). A native of Alexandria, Virginia, Mark earned his Bachelor of Fine Arts in Theatre from Virginia Commonwealth University and worked for over 20 years in marketing, communications, and general management for the performing arts including eight years at Arena Stage in Washington, D.C., six years at UApresents, the University of Arizona's performing arts series, and four years as General Manager for Broadway in Tucson/A Nederlander Presentation. He is a founding board member of PFLAG Greenville NC, a local chapter of the United States' largest organization for parents, families, friends, and allies united with people who are lesbian, gay, bisexual, transgender, and queer.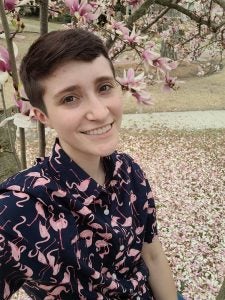 Rose Bogue, BFA
Program Coordinator, Dr. Jesse R. Peel LGBTQ Center
(252) 737-2512
bogues22@ecu.edu
Pronouns: They/Them/Theirs
Rose Bogue is the Program Coordinator for the Dr. Jesse R. Peel LGBTQ Center. Their primary responsibilities include coordinating and facilitating two of the LGBTQ Center's leadership development programs for students: the LGBTQ Center Assistants and the LGBTQ Student Panels. They also facilitate the weekly Coffee House program, a psychoeducational experience for students that supports student success and engagement through community building and topical discussions in a safe, compassionate environment.
Prior to joining the professional staff, Rose served as a volunteer with the Peel LGBTQ Center from 2018 through 2021. During that time, they were actively involved in the annual Understanding Asexuality event and became a visible mentor, advocate, and student leader in the LGBTQ community at ECU. Throughout 2021, Rose did a variety of design projects for the Peel LGBTQ Center such as creating brochures, vinyl signage, and advertisements featured on 160+ screens around campus. They handled all graphic design for the 2021 True Colors photography exhibit including the 7' x 11' "We Stand on Their Shoulders" wall graphic that is still on display on the second floor of the Main Campus Student Center.
In addition to their work with the center, Rose was a founding program assistant at ECU's Women and Gender Office (WGO), where they created the Gender Expansive Meet-up (GEM). GEM functioned to support students exploring gender identity and expression through topical, open discussions. Rose created additional events for the WGO including GameHERS, a video game tournament that highlighted the achievements of women in the gaming industry, and an Art and Music Fair, which served to promote student artists with a focus on those with marginalized identities. In 2020, Rose was selected by WGO director Ashley Cleland to co-direct Eve Ensler's The Vagina Monologues after years of participating as an actor.
In their senior year, Rose was the first creative director of the Creative Quarters at Pirate Media 1 (PM1). In this capacity, they oversaw the production of all PM1 publications and managed the design and photography teams. In 2020, Rose served as the editor-in-chief of REBEL art & literature magazine and Expressions minority voice magazine. This edition of Expressions received four awards from the North Carolina College Media Association, including First Place in the 'two-page spread' and 'artwork' categories.
Rose is a Pirate through and through, landing in the top ten for the first Captain of the Ship homecoming contest in 2020. Their work on campus was recognized in 2020 with the East Carolina Creed Award for Diversity and the Samantha Hamilton Award for LGBTQA Leadership Excellence. Rose received their Bachelor of Fine Arts from ECU in December 2021.