Dr. Jesse R. Peel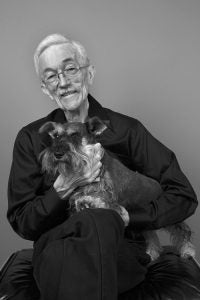 Originally from Everetts, North Carolina, Dr. Jesse R. Peel graduated from the University of North Carolina, Chapel Hill, where he attended medical school, then completed his residency in psychiatry at the University of Pennsylvania. He spent two years in the Navy, with tours in Vietnam and Okinawa. He lived in San Francisco and Nashville before moving to Atlanta in 1976 — just before the start of the AIDS epidemic. In Atlanta, Peel's psychiatry practice in Atlanta served gay men. In the 1980s, many of his clients and friends started dying of a new disease that eventually became known as AIDS. Jesse was at the forefront of HIV/AIDS advocacy efforts and served as a founding member of several activist groups.
Peel was one of the founding members of several activist groups, including AID Atlanta and Positive Impact, a mental health program for people with HIV and their friends, family, and caregivers.
In 1986, Jesse established the J. Woolard Peel University Scholars Award, along with his mother, Helen Peel, in order to memorialize his father. Jesse and his mother were among the first ten families to help establish what is now known as the EC Scholars program at East Carolina University.
Woolard Peel graduated from North Carolina State University, and Helen attended Louisburg College. Jesse completed his undergraduate work and medical school at the University of North Carolina at Chapel Hill. However, Jesse and Helen decided to establish this scholarship at East Carolina University because Woolard often said ECU was the future of eastern North Carolina. They had also heard that the EC Scholars program did a good job of connecting the donors with the students who received their awards.
Jesse and Helen both got involved with the Scholars Selection weekend events. Jesse annually served as a judge, and Helen made personal presentations to scholarship recipients at their high schools' Award Days. The Peels' involvement led to continued happiness and deepened their interest in ECU.
His landmark gift in 2014 established what is now the Dr. Jesse R. Peel LGBTQ Center, the largest center of its kind in the UNC system. His hope is that the Center will positively impact the lives of LGBTQ young people for generations to come.