Pirate Ally Training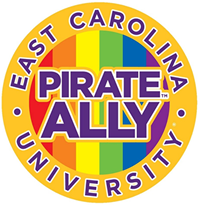 Pirate Ally training offers students an engaging, educational conversation about the lives of LGBTQ students on campus and highlights the importance of acceptance and understanding among their peers. Through this program, the Dr. Jesse R. Peel LGBTQ Center will increase the visibility of allies of the LGBTQ community in the Pirate Nation!
The Pirate Ally program is designed to complement Safe Zone training which has been offered to faculty and staff on campus for over ten years. Just as Safe Zone's purpose is to create a network of faculty and staff allies who are openly supportive of a safe, welcoming, and inclusive environment for the LGBTQ community on campus, Pirate Ally will encourage ECU students to help fulfill the University's vision of a welcoming and inclusive environment for all.